HOMEPAGE
Our new home
A long way away from friends & family!
---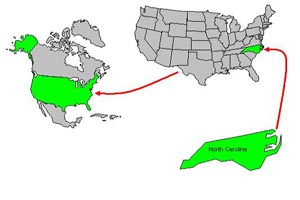 The United States of America - our current home.
After 30-something hours in aeroplanes and airports, we arrived in Richmond, Virginia. After a 4 week stay, we moved on to Winston-Salem in North Carolina and Mark has been working as a computer systems consultant for a large corporation since November 1997.
While Yvonne keeps the home fires burning and manages the family's daily routines, Chantelle is attending Grade 1 classes at one of the local schools and is really enjoying it. Christopher is desperate to start school himself so that he can find some new friends as he misses his 'mates' from South Africa dreadfully.
We have started travelling around the state of North Carolina and the surrounding areas and you can find photos and comments about the places that we have visited under the Photos/travel link.
---
---
This page created August 5,1998 - last updated January 25, 1999.
---
Website designed, developed and maintained by Mark Godfrey.
Contact us by e-mail